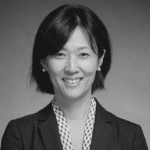 Kristen Lee
SENIOR MEDICAL DIRECTOR, PFIZER
Location: New York
Member Since: 2020
Kristen Lee is Senior Director of Medical Affairs and Rheumatology Lead in Inflammation and Immunology of Pfizer, one of the world's leading research-based biopharmaceutical companies. She is also an experienced Assistant Professor at the Division of Rheumatology at NYU Langone Health with a demonstrated history of working in the hospital and healthcare industry.
Prior to Pfizer, she served as an Instructor at the Division of Rheumatology and Associate Director at the Hospital for Joint Disease Arthritis Clinic at NYU School of Medicine.
Kristen received her Medical Doctorate from Stony Brook University School of Medicine and Master of Science in Nursing from Yale University School of Nursing.