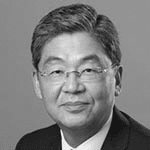 Kevin Kim
Chairman, President, and CEO,
BBCN Bancorp and BBCN Bank
Location: Los Angeles
Member Since: 2014
Kevin Kim is Chairman, President and Chief Executive Officer of BBCN Bancorp and BBCN Bank. He has been President and Chief Executive Officer of BBCN Bancorp since March 2013 and of BBCN Bank since April 2014. He has been Chairman of the board of directors of BBCN Bancorp since May 2012 and of BBCN Bank since December 2011.
Mr. Kim is formerly a director of Center Financial Corporation and Center Bank from 2008 until the merger between Nara Bancorp, Inc. and Nara Bank, completed on November 30, 2011. Mr. Kim was the lead negotiator from Center resulting in the creation of BBCN.
Prior to joining BBCN, Mr. Kim practiced law for 18 years, with a focus on corporate and business transactions, business acquisitions, tax planning, and real estate transactions.
Mr. Kim began his professional career as a Certified Public Accountant, working for ten years at two of the largest public accounting firms. Mr. Kim serves on the Boards of Directors of the Los Angeles Area Chamber of Commerce and United Way of Greater Los Angeles.
He received a B.A. degree with a major in English and a minor in International Trade from Hankuk University of Foreign Studies in Seoul, Korea, an M.B.A. degree from the Anderson School of Management, the University of California, Los Angeles, and a J.D. degree from Loyola Law School in California. Mr. Kim is a graduate of the ABA Stonier Graduate School of Banking, University of Pennsylvania, and earned the Wharton Leadership Certificate from The Wharton School Aresty Institute of Executive Education.