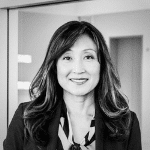 Junie Lim
GENERAL COUNSEL,
NOVO VENTURES INC.
Location: San Francisco Bay Area
Member Since: 2020
Junie joined Novo Ventures (US) Inc., in 2016 in San Francisco, CA, as US General Counsel. She manages investment structuring and negotiation, portfolio company management, regulatory governance, and other general legal matters.
Prior to joining Novo, Junie was Counsel at Wilson Sonsini Goodrich & Rosati, where she represented private and public biotech and technology companies and venture capital firms in financings, mergers and acquisitions, corporate governance, recapitalizations and other stock related matters, complex contract negotiations, securities compliance and disclosures, employment issues, intellectual property issues, and strategic partnerships.
Junie holds a Juris Doctor from New York University School of Law, New York, New York, and a B.A. in Economics from Smith College, Northampton, Massachusetts.