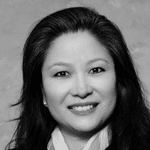 Juliane Lee
Pediatric Anesthesiologist, Assistant Professor of Anesthesiology & Pain Medicine, Indiana University School of Medicine, Riley Hospital for Children
Metro Region: Indiana
Member Since: 2022
Juliane Lee, MD, MS, is a triple board-certified pediatric anesthesiologist (ABA) and pain medicine physician (ABPM) at Riley Hospital for Children and Assistant Professor of Anesthesiology at Indiana University School of Medicine. She is concurrently an MBA candidate at Indiana University Kelley School of Business (Class of 2023).  
Dr. Lee earned her BS at Smith College, MD at the University of Wisconsin School of  Medicine & Public Health, & MS at Weill Cornell Graduate School of Medical Sciences. She completed anesthesiology and pediatric anesthesiology training at the University of  Illinois-Chicago Medical Center. She received her Medical Acupuncture certificate from the Helms Medical Institute of UCLA David Geffen School of Medicine. Prior to her current position at Riley's/IU Health in Indianapolis, Juliane served on staff at Lurie's  Children's (Northwestern Feinberg School of Medicine, Chicago), Arkansas Children's (the University of Arkansas for Medical Sciences, Little Rock), & Children's Hospital of Wisconsin (Medical College of Wisconsin, Milwaukee).  
Juliane is an active member of several philanthropic boards in Wisconsin and Colorado. She has established endowed scholarships in the loving memory of her inspiring parents. She enjoys the success of her solo private practice medical acupuncture small business, Institute for Athletic Acupuncture, LLC. After completing her MBA, Juliane would like to focus more on philanthropy and global pediatric welfare, and humanitarian endeavors. Juliane loves spending time with her four close-knit sisters and eight nieces and nephews and enjoys traveling with them and other best friends.