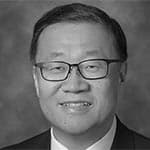 John S. Yu
Medical Director,
Brain Tumor Center at Cedars-Sinai Medical Center
Location: Los Angeles
Member Since: 2015
John S. Yu, MD is the Medical Director of the Brain Tumor Center at Cedars-Sinai Medical Center. He is Professor and Vice Chair in the Department of Neurosurgery. He is conducting research in immune and stem cell therapy for brain tumors.
Dr. Yu earned his bachelor's degree from Stanford University and spent a year at the Sorbonne in Paris studying French literature. He completed his fellowship in immunology at the Institut Pasteur in Paris. He earned his medical degree from Harvard Medical School and master's degree from the Harvard University Department of Genetics.
He completed his neurosurgical residency at Massachusetts General Hospital in Boston. He received the Mahaley Clinical Research Award from the Congress of Neurological Surgeons in 2005 and the Career Achievement Award from the Korean American Medical Association in 2011.
He has been in Castle and Connelly's America's Top Doctors since 2005. He is chairman and founder of Kairos Pharma, a development stage biotechnology company focused on immunotherapy and nanotechnology.