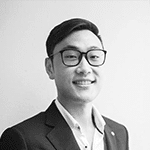 John Kim
CONSULTANT, BOSTON CONSULTING GROUP
Location: Houston, TX
Member Since: 2021
John has 5+ years of leadership experience in strategy, finance, and startups. John is passionate about building teams with a common purpose to drive growth, developing strategies with senior leadership in a Chief of Staff capacity, and delivering scalable business impact that benefits society as a whole.
John currently consults senior leadership teams to drive global business impact at the Boston Consulting Group (BCG). Previously, he managed investments for ultra high net-worth individuals at Bank of America Merrill Lynch (BAML). 
Before his stint at BAML, John built nonprofit and mobility startups. John served as the COO and Chief of Staff of GIVE.asia, Singapore's largest crowdfunding platform for social causes. He received honors from the Singaporean President and the United Nations for his social entrepreneurship efforts. John also served in a Chief of Staff capacity at BlueSpace.ai, an autonomous driving startup focused on developing software for mass transit fleets. 
John graduated from Korea University with a Bachelor's in Business Administration. Outside of the workplace, John can be seen cooking with his wife, Hannah, and wearing cowboy boots.