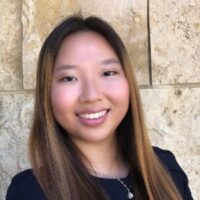 Auburn University | Auburn, AL
Department of Justice
Joanne Kim is a rising senior studying Political Science with a minor in Public Relations at Auburn University. Through the CKA Emerging Leaders Scholarship program, she plans to explore ways to uplift and empower her local Asian American, Native Hawaiian, and Pacific Islander communities. She hopes to inspire other young Korean Americans to follow their passions in public service and civic engagement. Upon graduation, she aspires to obtain a graduate degree and enter a career in public service.
In the past, Joanne has interned with a campaign for an Alabama State Representative, Congresswoman Marilyn Strickland's office in Washington D.C., and the Alabama State House. She also remains involved on-campus as she will be serving as Director of Explore Spring with Emerge at Auburn, co-Vice President for her Model UN chapter, one of the Assistant Directors at Southern Regional Model United Nations (SRMUN) Atlanta 2023 conference, and as a member of the 2023 Clinton Global Initiative University Cohort.
Outside of her academic and professional interests, Joanne loves reading, going on walks, and spending time with her loved ones. She is very excited and grateful to continue her love for public service and work to serve her local community.