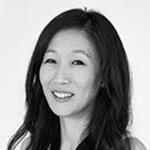 Jinhee Ahn Kim
Co-Founder & CEO,
UYU Ltd.
Location: London
Member Since: 2015
Membership Type: Full
Jinhee is currently, CEO of esports organization, UYU.gg, which she co-founded in early 2017. With a competitive global roster including top pro gamers from North America, Korea, Japan, Greater China and Europe, UYU has quickly established itself as a contender across numerous esports games. In addition, UYU produces innovative live streaming content target towards the "esports generation" audience.
Jinhee was previously co-founder and president of Snapette, the largest mobile platform for local fashion shopping, which was sold to leading ecommerce platform PriceGrabber in 2013. At the time of its sale, Snapette was VC funded and had over 2 million users and more than 300 top fashion retailer and brand partners such as Nordstrom, Nine West, UNIQLO, Theory and DVF.
She began her career as a management consultant at Bain & Co., in Boston then switched industries and was a senior designer at Ralph Lauren in New York City. Later she founded True-Learning, an online early learning curriculum that was one of the top selling educational apps in iTunes. Prior to co-founding Snapette, she was the Director of Product Development at Mindshapes, a mobile e-learning company based in London where she oversaw the development of award winning educational apps.
Jinhee was selected as one of the "Most Creative People" by Fast Company. She currently serves on the Board of Directors for Harvard Alumni Association and is a board member and vice president of the Harvard Asian American Alumni Alliance. She also serves on the board for the Council of Korean Americans and is the founding co-chair for the Inspire Gala. Previously she served as the 2016 and 2017 CKA Summit & Gala co-chair.
She enjoys mentoring and advising startups in the UK and US. Jinhee received her A.B. in economics from Harvard College, A.A.S. in fashion design from Parsons School of Design and J.D. from the University of Hawaii.