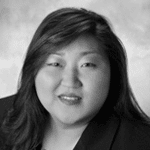 Jin Hwang
Associate General Counsel, Verizon Communications
Location: New Jersey
Member Since: 2017
Jin Y. Hwang is Associate General Counsel with Verizon Communications Inc., a Fortune 15 and Dow 30 company. In this role, Jin negotiates multi-million dollar commercial agreements with Fortune 500 corporate customers in the energy & utility industry for their technology needs. Jin is also a Steering Committee member of the Verizon Public Policy, Law & Security Diversity & Inclusion Council and has participated in Verizon's pro bono initiative with Street Law for several years. Prior to her fifteen years with Verizon, Jin was an attorney with France Télécom (now Orange) in Washington, D.C.
Jin has been very passionate about advocating for diversity and especially inclusion as well as collaboration for several years. She was honored to serve as the 2015-16 president of the National Asian Pacific American Bar Association (NAPABA), which is comprised of approximately 80 national, state, and local affiliates and represents the interests of over 50,000 pan-Asian Pacific American attorneys in the United States. Jin has been instrumental in organizing several collaborative programs with partners such as Ascend, the largest non-profit pan-Asian organization for business professionals in North America, the American Bar Association (ABA), Hispanic National Bar Association, National Bar Association, National Native American Bar Association, and National LGBT Bar Association. She is the NAPABA delegate to the new ABA Diversity and Inclusion Advisory Council. Jin was appointed as a member of the ABA Standing Committee on the American Judicial System – Subcommittee on State Courts.
Jin has served as a mentor to many law students and lawyers as well as a speaker for numerous organizations including the ABA, NAPABA, Texas State Bar Asian Pacific Interest Section, DRI, International Association of Korean Lawyers, and University of Texas Center for Women in Law over the years. Jin earned her bachelor's degree with double majors in Psychology and French Studies with honors from the University of Pennsylvania. She graduated from American University's Washington College of Law, where she was Articles Editor of the Administrative Law Review and a leader in several organizations. Jin is a past NAPABA Best Under 40 recipient.