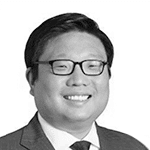 Jin Chun
COO, SILVERBOX CAPITAL
Metro Region: New Jersey
Member Since: 2021
Jin Chun is Chief Operating Officer of SilverBox Capital, an alternative investment manager operating across multiple platforms, including sponsoring a series of special purpose acquisition companies (SPAC).  Jin also serves as Chief Operating Officer of SilverBox Engaged Merger Corp I (NASDAQ: SBEA) and is a Partner of Boxwood Capital, a private equity investment firm.
Previously, Jin was a Managing Director of Macquarie Capital based in New York where he was responsible for sourcing, executing, and managing investments on behalf of Macquarie Capital and funds managed by affiliates of Macquarie Capital.  While at Macquarie Capital, Jin led numerous investments including debt, preferred equity, and common equity investments across technology, financial services, infrastructure, travel and leisure, and gaming sectors.  Prior to that, Jin worked for Dresdner Kleinwort Wasserstein in its Industrial M&A team from 2001 to 2005.  
Jin holds a Master of Finance (with Distinction) from INSEAD and a Bachelor of Science from Columbia University.  Jin also serves on the board of directors of Read Ahead, Inc.