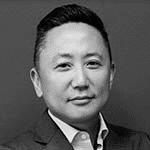 Jieho Lee
Co-Managing Partner,
Knighted Ventures
Location: Los Angeles
Member Since: 2017
Jieho Lee is a founding member of Knighted Ventures and has served as Co-Managing Partner since 2012. Previous to Knighted Ventures, Jieho Lee was head of International Business Development at POM Wonderful (a division of Roll Global) where he oversaw development and marketing for the Asia Territories. Lee also served as General Partner at Blue Horizon Capital, where he co-led an investment strategy team focusing on acquisitions in the business information sector. Before Blue Horizon, Lee co-founded Gemini Enterprises, a consulting firm focusing on risk management initiatives; there he oversaw ERM operations for companies such as the Dole Food Company, Ducommun Incorporated and Pacific Union Bank.
Lee also pursued a career in the entertainment field: writing, producing and directing commercial productions for clients such as Ralph Lauren, Victoria's Secret and Tommy Hilfiger. He wrote and directed the feature film "The Air I Breathe" (starring Forest Whitaker, Emile Hirsch, Andy Garcia, Brendan Fraser, Kevin Bacon, John Cho and Sarah Michelle Gellar) and oversaw development and production of several other projects for Lionsgate Films, Circle of Confusion, IO Interactive, HS Films and CJ Entertainment. Prior to his career in film, Lee worked as a classical music recording and events producer with names such as Yo-Yo Ma, Isaac Stern, Sarah Chang and Yefim Bronfman. He produced a top-selling classical aria album with coloratura soprano Sumi Jo, which received the South Korean presidential award for excellence by then president Kim Young-Sam.
Lee received a double degree in College of Letters and Cinema Studies at Wesleyan University, and an MBA from Harvard Business School. He resides in Beverly Hills with his wife, South Korean film actress Min Kim, and their 10 year old daughter, Shaye Lee.