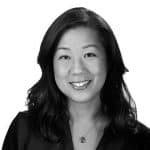 Jenny Choi-Fitzpatrick
CHIEF OPERATING OFFICER, EVIDENCE ACTION
Metro Region: San Diego
Member Since: 2019
Jenny is an executive leader and practitioner in the field of international development with two decades of experience overseeing the delivery of complex aid programs in health, education, food security, water and sanitation, disaster response, and climate change adaptation in the Global South. 
Jenny is currently Chief Operating Officer at Evidence action where she provides overall leadership of global finance, operations, people, legal, and IT functions for an award-winning NGO that specializes in scaling evidence-based and cost-effective programs to reduce the burden of poverty for hundreds of millions of people in Africa and Asia.  
Prior to this, Jenny served as Senior Director, Africa for Global Communities, overseeing a $210 million portfolio across a range of program areas in nine countries across West, Central, East and Southern Africa. Jenny also served as Director of Operations in Bangladesh, Country Director in Tanzania, and Director for Program Quality for Project Concern International. Apart from international development, Jenny also served on the faculty of the School of Public Policy at Central European University where she taught graduate courses and developed an innovative experiential learning program for international public policy students. 
Jenny received her BA in Development Studies from the University of California, Berkeley and an MA in International Development and Administration from the Josef Korbel School of International Studies at the University of Denver.