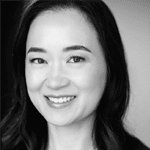 Jennifer Lee
Radiologist, Screenwriter & Producer, SCPMG/Kaiser & Double Happiness Productions
Metro Region: Los Angeles
Member Since: 2022
Dr. Jennifer Young Lee is a Korean-American author, screenwriter, and radiologist. She was born in Seoul, South Korea, raised in Texas, went to Harvard College '95, and now lives in Los Angeles. In 2015, Jennifer started writing. She published a short story in the Once Upon a Fairytale anthology and wrote for the international web series Die Testament. In 2019, she founded her company Double Happiness Productions. Jennifer currently has a medical series, family drama, and rom-com feature in development. Dr. Jen is currently Executive Producing an anti-Asian hate/Asian empowerment movie starring Dr. Ken Jeong. Her manager Daniel Vang is at 3Arts Entertainment.
Jennifer is a passionate advocate for women and Asian Americans. In 2018, She joined the board of Chicks with Scripts, a nonprofit to help women enter the TV writing industry, and hosted multiple educational panels and mixers in her home for up to 50 women at a time. After reading about Lena Waithe's Black Women's Brunch in 2019, she co-founded the Asian American Writers Brunch (AAWB) with Nancy Drew showrunner Melinda Hsu Taylor in Los Angeles and New York City. The group has grown to over 150 members and has helped writers find representation and staffing on TV series. The AAWB Showrunners Brunch Jen hosted helped connect Showrunner Albert Kim with Netflix executive Nathan Kitada who hired him to run the live-action Avatar series.
She also revitalized the Harvard Asian American Alumni Alliance (H4A) in Los Angeles and now runs the H4A Arts & Entertainment division which highlights books, series, and features by Asian Americans. Jen also assists the Harvardwood Publishing Imprint run by Patricia Danaher and focuses on publishing new Asian American authors. Jennifer is on the board of the Harvardwood Literary Prize, an international book award that provides annual grants to celebrate authors. She is also on the board and Co-Secretary of the Harvard Club of Southern California which hosts events and creates a supportive community for Harvard alumni. Jennifer is a member of the Gold Open Patrons and has hosted multiple Gold Opens for features including Crazy Rich Asians, Searching, and Burning.