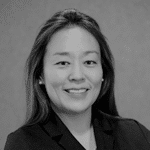 Jen Kim
Senior Counsel, Parsus Law LLP
Metro Region: Los Angeles
Member Since: 2022
Jen Kim is a corporate attorney and a certified life coach.
As Senior Counsel at Parsus LLP, she specializes in M&A and startup work, with a passion for helping entrepreneurs start and grow their businesses. From her experience working in both large law firms and in-house settings in the US and Asia, Jen brings a wealth of cross-border legal and cultural knowledge to facilitate international and domestic transactions with diverse parties.
As a life coach, she is committed to helping her clients think and decide for themselves and supporting their liberation from the notion that their value comes from what other people think of them.
Jen received her law degree from Northwestern University Pritzker School of Law and her undergraduate degree in business from Ewha Woman's University in Seoul, Korea.
Jen grew up in South Korea, the US, and the Philippines, and speaks English and Korean fluently. Jen is an avid skier and is the happiest on the slopes. She has an insatiable appetite for travel and a keen eye for creating a beautiful space wherever she goes.