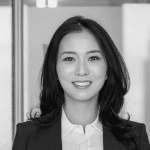 Jen C. Won
ASSOCIATE GENERAL COUNSEL,
THE TRADING DESK
Location: Los Angeles Area
Member Since: 2019
Jen Won is a bilingual trial attorney focusing on high-stakes civil litigation and white-collar criminal defense. Ingenious and earnest, Jen is especially apt to tackle a complex legal problem and develop a winning strategy. Her cerebral approach to litigation has led complex commercial cases to trial and obtained winning results for her clients in federal and state courts. Jen is currently the Associate General Counsel of Privacy and Product at The Trading desk
Having lived in Seoul, Korea until she was 18 years old, Jen is fluent in Korean. She spearheaded the development of Larson LLP's Korea practice, through which she serves as a trusted advisor to Korean conglomerates and individuals who need legal advice in the U.S. or abroad. Jen coordinated parallel proceedings in East Asia before multiple tribunals and managed a portfolio of litigation matters for Fintech and energy clients.
Jen leads high-profile, sensitive investigations for corporate clients facing regulatory challenges. She regularly defends individual clients in federal and state criminal investigations, and she has successfully negotiated favorable outcomes with the government on her clients' behalf. Jen has also litigated asset forfeiture cases before the U.S. and international tribunals and recovered assets for her clients. Her willingness to delve into each case and persevere in high-stress situations is recognized and appreciated by her clients and the government alike.
Jen is passionate about empowering others in the legal profession and building an inclusive team. Outside of the courtroom, she dedicates her time to serving her legal and Asian Pacific American (APA) communities. Since 2019, Jen has served as an at-large board member for the National Asian Pacific American Bar Association (NAPABA) Board of Governors. She is the president-elect of the Korean American Bar Association of Southern California (KABA) and a board member of the Asian Pacific American Bar Association of Los Angeles County (APABA). Jen has served as a regional governor and the chair of the Young Lawyers Division for the International Association of Korean Lawyers (IAKL) since 2017. That same year, she co-founded the Institute for Inclusion in the Legal Profession (IILP) Social Impact Incubator, a non-profit initiative designed to promote diversity in the legal profession.