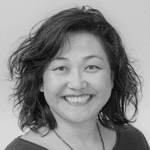 Jen Bae
VP OF MARKETING PROGRAMS AND CORPORATE SOCIAL RESPONSIBILITY, KINDERCARE EDUCATION
Metro Region: Portland
Member Since: 2022
Jen Bae is the Vice President of Marketing for KinderCare Education, where she leads marketing strategies and programs for KinderCare's more than 2,000 early learning centers and before and after school programs across the country. Jen also serves as the executive sponsor for the company's diversity, equity and inclusion initiative.
Prior to joining KinderCare, Jen worked for a consulting agency where she led the organizational design, operational practices and process development for marketing functions at Fortune 500 companies. She spent eight years at the Banana Republic in various HR roles, as Senior Director of Communications and Engagement, and as Chief of Staff to the President.
Jen earned a Master's degree in Business Administration from Fuqua School of Business at Duke University and an undergraduate degree in Political Economy of Industrial Societies from the University of California, Berkeley. She prides herself on her organizational development and change management expertise, and delights in encouraging the growth of others. In her personal time, Jen enjoys spending time with her dog, Chopstix.