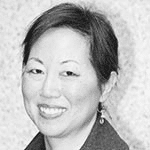 Jeannie Park
Former Executive Editor,
People Magazine
Location: New York City
Member Since: 2011
Jeannie Park has been an advocate for the Asian American community throughout her 22 years as a journalist and now as a full-time volunteer and advocate.
Her professional career included positions at Time, Entertainment Weekly, InStyle and People; she was an Executive Editor at the latter two publications and and one of the highest-ranking Asian Americans in magazines.
She was founding president of the Asian American Journalists Association in NY, developing and promoting diverse leadership in the news business.
She has been honored by numerous professional and community organizations including the National Association of Minority Media Executives, the Asian American Federation of New York and KoreanAmericanStory.org.
She is a member of CKA, is a former advisor for NetKAL and currently serves on the Executive Committee of the KACF Board. She is the President of the 6,000-member Harvard Asian American Alumni Alliance and co-founded their Global Summits in 2010.
She is also a Co-Founder of the Coalition for a Diverse Harvard, advocating for diversity and inclusion in higher education. She is also a member of the Council for the Schlesinger Library on the History of Women in America, supporting efforts to increase their collections of Asian American women. She is the mother of two young adults.