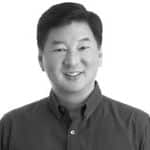 Jay Kim
CEO,
DATALOCKER, INC.
Location: Kansas
Member Since: 2020
Jay Kim is the founder and CEO of DataLocker Inc. DataLocker is a developer of easy to use products which allow organizations around the world to secure and manage encrypted endpoints. Serving over 40 countries, DataLocker is headquartered in Overland Park, KS and has offices in Korea and the Netherlands.
In addition to serving at DataLocker, Jay is an AdventHealth Foundation Board member, University of Missouri – Kansas City Board Trustee, and Axiom Strategies Board Member.
Jay earned Bachelor of Science degrees in Pharmacy and Biology at the University of Kansas and an MBA from George Washington University.