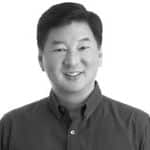 Jay Kim
CEO,
DATALOCKER, INC.
Location: Kansas
Member Since: 2020
Jay was born and raised in Kansas City in 1966 and was part of the first Korean Americans wave to settle the region. He attended the University of Kansas and majored in Pharmacy and Biology and then went on to George Washington University to earn his MBA. 
In 1996, after spending five years living in the Washington D.C. area, Jay returned to Kansas City, where he went on to have a local pharmacy career before joining his father's company, QMD International, a tier-one supplier of components for the appliance industry. While working at QMD, he had his first true exposure to Korean culture during his travels abroad. During his career at QMD, he was introduced to a program sponsored by the Korean government called YBLF (Young Business Leaders Forum), where he was a part of the class of 2006. Jay then became a founding member of YBLN (Young Business Leaders Network). In 2007, Jay founded DataLocker Inc, a data security company. DataLocker became one of the area's fastest-growing start-ups and received numerous recognitions including;
2013 – 25 Under 25 award from the Thinking Bigger
2014 – Nova Award for fast-growing companies from the city of Overland Park, KS
2013, 2015, 2016 – Kansas City Chamber of Commerce Top 10 small business
2017 – EY Regional Entrepreneur of the Year Finalist
2018 – INC 5000 list #1564
2019 – KC Chamber International Small Business of the Year
Over the years, Jay also held several positions serving the local community, including: 
Board Member of the Asian American Chamber of Commerce
Owner of the local Korean newspaper
Board Chair of the local Korean language institute
DataLocker is currently a globally recognized security solutions provider with offices in Seoul, Netherlands, and is headquartered in Overland Park, KS.