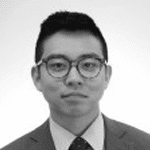 Jay H. Cho
Manager of Federal Government Relations,
Verizon Communications
Location: Washington, DC
Member Since: 2019
Jay Cho is currently the Manager of Federal Government Relations at Verizon. In this role, he advocates for Verizon's policy positions on Capitol Hill, develops advocacy strategies, and works with stakeholders to educate Members of Congress and staff about Verizon's policy positions.
Jay previously worked for Congresswoman Robin L. Kelly from 2013-2018. Most recently, he served as her legislative assistant, handling her work as the Ranking Member of the Information Technology Subcommittee on the House Oversight and Government Reform Committee as well as her work as a co-chair of the Congressional Diversifying Tech Caucus. His issue portfolio for Congresswoman Kelly included technology, telecommunications, cybersecurity, economic development, transportation, and education. During his time with Congresswoman Kelly, Jay authored several amendments and bills which were signed into law in the policy areas of education, technology, and government oversight.
Jay is a co-founder of the Congressional Tech Staff Association (CTSA), a Congressional staff association dedicated to helping Congressional staff learn the policy issues related to technology, and grow their professional networks. As an executive officer of CTSA, Jay helped write the bylaws, and developed programming for the group.
Jay started his career in politics during the 2012 election cycle as a Finance Fellow for the political fundraising firm, Political Development Group. Jay holds a BA in Political Science from American University in Washington, D.C.