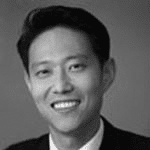 James Ahn
Managing Member,
Magellan Road LLC

Metro Region: Seoul
Member Since: 2015
Mr. Ahn joined Clayton Dubilier & Rice in 2011. CD&R is one of the oldest private equity investment firms in the world. Founded in 1978, CD&R has managed the investment of approximately $17 billion in 52 businesses—mostly subsidiaries or divisions of large multi-business corporations—representing a broad range of industries with an aggregate transaction value in excess of $80 billion. Approximately sixty percent of CD&R's transactions have involved corporate divestitures.
Previously, Mr. Ahn was a partner and head of the Asia-Pacific mergers and acquisitions service line at McKinsey & Company. In that capacity, he worked closely with management teams from multi-national companies regarding strategies to enter Asian markets, as well as large Asian companies expanding their businesses outside of their home markets.
He earned a B.A. in Economics and an M.S. in Industrial Engineering from Stanford University and a J.D. from Harvard Law School.