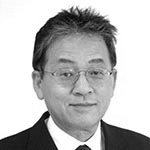 Jae Min Chang
CEO,
The Korea Times
Location: Los Angeles
Member Since: 2015
Mr. Jae Min Chang is the Chairman and Publisher of the Korea Times, the largest Korean language multi-media company in the United States.
Established in 1969 as a newspaper company, The Korea Times has transformed into one of the largest Asian multi-media company in the United States. The Korea Times also develops, operates, and manages radio operations across the United States.
Mr. Chang has been recognized by business and civic organizations for his leadership, commitment and support of programs benefiting Korean American youths, immigrant families as well as the community in general.
His community involvements include serving on the Board of Directors Korean American National Museum, Harvard-Westlake School, LA 84 Foundation, UCLA Korean Alumni Association, and Board of Councilors at UCLA School of Dentistry.
Mr. Chang has also led the community-wide effort for the recent years to benefit and enrich the Korean studies at UCLA Asian American Department. Mr. Chang recently established The Korea Times-Hankook Ilbo Endowed Chair in Korean American Studies at UCLA Asian American Studies Center.
Mr. Chang was born in Seoul, Korea and received his B.A. Degree in Economics from the University of California, Los Angeles. He resides in West Los Angeles with his wife.