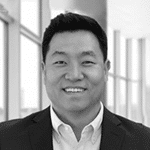 Jae Kim
Founder and President,

the augury square, inc.
Location: Atlanta, GA
Member Since: 2020
Jae Kim has a background in Corporate Finance and began his career as an IT-sales consultant in the automobile industry then achieved management positions for Nissan and Acura. He then entered the mortgage industry in 2003 and was awarded top producer for three consecutive years. In 2006 he started FISO Mortgage and successfully managed a team of over 20 people. In addition to his mortgage company, his interests in technology grew and he created a portal website for Korean-Americans named Hansource. After the financial crisis in late 2008, he started trading diamonds and traveled to various parts of Africa, Europe and Asia to further develop his business and ultimately became recognized by the World Federation of Diamond Bourses (WFDB) where he was later accepted as the 29th affiliated member in Moscow, Russia in 2010. In 2015, he entered the blockchain industry, was a speaker at the 2016 Blockchain Summit in Beijing and currently has two patent pending technologies using blockchain. He currently sits as President of KOAM Chamber of Commerce and a member of the Board of Visitors at Emory University.