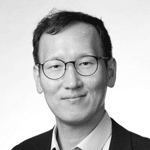 Hyunseok Kang
Associate Professor, University of California, San Francisco
Metro Region: San Francisco Bay Area
Member Since: 2022
Dr. Hyunseok Kang is a medical oncologist and a clinician scientist focusing on head and neck cancers including squamous cell carcinomas of the head and neck (SCCHN), salivary gland cancers, thyroid cancers, and other rare cancers of the head and neck. He is an Associate Professor of Clinical Medicine at the University of California, San Francisco. Prior to joining UCSF, he was an Assistant Professor of Oncology, Otolaryngology-Head and Neck Surgery at the Johns Hopkins University School of Medicine in Baltimore, MD.
Dr. Kang completed his medical degree and public health degree at Yonsei University in Seoul, South Korea, then came to the US and had residency training at St. Luke's Roosevelt Hospital Center/Columbia University in New York City. He completed his hematology and medical oncology fellowship at Emory University in Atlanta, GA.
Dr. Kang's research focus is the development of clinical trials with novel therapeutic agents for patients with head and neck cancers. He played a pivotal role in the development of immune checkpoint inhibitors in head and neck cancers and conducted/participated in a number of clinical trials. His current research focus is developing novel therapeutics for rare cancers of head and neck such as salivary gland cancers and thyroid cancers based on precision oncology and cancer genomics.