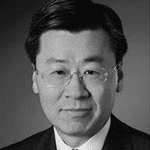 Hyun Park
Senior Vice President & Chief Legal Officer,
limnexus llp
Location: San Francisco Bay Area
Member Since: 2011
Hyun Park is currently the Senior Vice President & Chief Legal Officer at LimNexus LLP. With over 30 years in the legal sector, Hyun served from November 2006 to February 2017 as senior vice president and general counsel for PG&E Corporation and its businesses, including its principal subsidiary, Pacific Gas and Electric Company.
Prior to joining PG&E Corporation in 2006, he was vice president, general counsel and secretary at Allegheny Energy, Inc. Hyun previously served as senior vice president, general counsel, and secretary of Sithe Energies, Inc. He also was a partner with the law firm of Latham & Watkins, where he specialized in corporate transactions and finance.
Hyun is a graduate of Harvard Law School. In addition, he holds a graduate degree in economics from Oxford University and a bachelor's degree in economics from Columbia University. He is a member of the State Bar of California and serves on the boards of directors of the SF-Marin Food Bank and Council of Korean Americans.