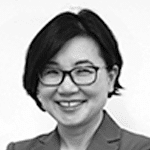 Hye-Won (Grace) Shin
Chief Scientific Officer & Chief Global Affairs Officer at RIIID Medical & Research
Metro Region: CA
Member Since: 2021
Dr. Hye-Won (Grace) Shin is the Chief Scientific Officer & Chief Global Affairs Officer at RIIID Medical & Research. She is responsible for establishing the RIIID's scientific research roadmap, developing scientific-evidence-based community education programs, and building domestic and global R&D collaborations with top-notch academic institutions, research centers, foundations, and community-based organizations to bring broader impact to the communities we serve. Dr. Shin co-founded Chiron Total, a global medical concierge service organization that has affiliation with UCI Health CareConnect International Office.
In parallel, Dr. Shin serves as the Director of Asian American Community Outreach at UCI Institute for Memory Impairments and Neurological Disorders (UCI MIND) and the Director of Korea Relations at UCI Office of Global Engagement. She is a Community Advisory Board member for the NIH-funded nationwide research entitled, "The Collaborative Approach for AAPI Research and Education (CARE) Research Registry" by representing Somang Society, a Cypress-based nonprofit organization serving Korean American seniors and their caregivers.
Dr. Shin is a biomedical engineer with a chemical engineering background and clinical translational research experience. She holds a Ph.D. in Chemical and Biochemical Engineering from UCI and earned her master's degree in Chemical Engineering at the Korea Advanced Institute of Science and Technology (KAIST). Dr. Shin's areas of research expertise and interests include minimally invasive medical technology for early detection of inflammation and infection, mobile health technology for chronic disease management, biomarkers, and multiscale systems integration. Dr. Shin also focuses on developing biomedical and social interventions that can reduce racial/ethnic health disparities in medical research. She has published 30+ research papers in prestigious peer-reviewed journals; 60+ conference proceedings and has written multiple successful research grants. In addition, she is an inventor on four issued patents. Dr. Shin has been invited to serve as a National Institute of Health (NIH) extramural grant reviewer and has served as a referee for peer-reviewed journals including the IEEE Sensors Journal, Journal of Breath Research, the Journal of Applied Physiology, European Respiratory Journal, and the American Journal of Respiratory and Critical Care Medicine to provide expert evaluations on the research of fellow scientists.