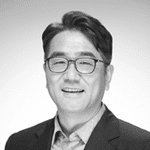 Hosung Park
VP of R&D, iRobot
Metro Region: San Diego
Member Since: 2022
Hosung Park is the Vice President of Research and Development at the Project Management Office of iRobot. He has extensive experience in consumer product development and web/mobile-based business solutions development with the goal of improving daily life. He has a record of delivering 35+ million mobile devices in 50 countries with $8+ billion in revenue generated and a successful B2B marketplace beta launch.
Previously, he served as the Director of Technical Program and Portfolio Management at HP, where he led the Technical Program Management Office composed of 1,400 software developers. Prior to HP, Hosung served as the Director of Engineering at Motorola Mobility, a Lenovo company, where he directed a team of 40 software engineers in the development of mobile devices from design to launch.
Hosung received his BS and MS in Computer Engineering at the Florida Institute of Technology and received his MBA at the Anderson School of Management at UCLA.