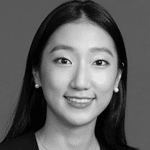 Hayley Kim
Associate, Clayton, Dubilier & Rice
Metro Region: New York
Member Since: 2022
Hayley currently works as an investment associate in the Technology and Services team at a New York based private equity firm, Clayton, Dubilier & Rice ("CD&R"). Previously,  she worked in the Investment Banking division at JP Morgan.
Hayley has continued to carve out time to lead initiatives in various professional and non-profit organizations to promote connections amongst Korean Americans, female professionals, and minorities. She is passionate about promoting workplace diversity and inclusion, giving back to the community, and making real-life impacts outside of work.
She received a Bachelor of Science in Finance and Statistics from The Wharton School of the University of Pennsylvania.