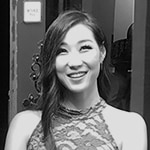 Hannah Y. Kim
Founder,
Remember727
Location: Washington, D.C.
Member Since: 2017
A former congressional aide, Hannah Y. Kim has 13+ years of experience in strategic communications, advocacy, and operations in political, nonprofit and philanthropic spheres.
She is the official ambassadress of the Korean War Veterans Memorial Foundation and founder of Remember727 dedicated to honoring Korean War veterans. She spearheaded the historic passage of federal legislation that created a memorial day for Korean War veterans on July 27, 2009. She has organized an annual commemoration in Washington, DC for more than a decade. From 2017-19, she traveled across six continents to thank and interview more than 200 veterans in 30 countries that participated in the Korean War (1950-53), including North Korea. She completed another voluntary journey to all 50 states and 4 US territories to thank more than 1000 American veterans. For her advocacy, Hannah was honored as the CA29th Senate District's 2019 Woman of the Year by the California Legislature.
During her tenure as Chief of Staff / Communications Director to Rep. Charles B. Rangel (D-NY), Hannah drafted and passed five bills (between 2010-2016), chaired the Democratic Communicators Network of more than 500 press aides (2013-15), established the Congressional Yogi Association (2015), headed the Korean American Staff Association, and organized the first-ever TEDxUSCongress (2016).
Hannah's experiences span working at the United States Institute of Peace and the United States Peace Corps Headquarters, as well as being a published author and entrepreneur all before the age of 25. She studied at various institutions including the Seoul National University, Graduate School of Political Management at George Washington University, UCLA Anderson School of Management and Johns Hopkins School of Advanced International Studies. She has contributed to the CNN, Huffington Post, ChosunIlbo, Korea Times, Korea Daily among many other newspapers/blogs, and has appeared on three documentaries, and numerous media outlets, such as C-SPAN, The Hill, Roll Call, AM The Answer (NY), tbs eFM ThisMorning, SBS, KBS, YTN, Yonhap, TV Chosun, Arirang TV, JoongAng Daily, and DongAIlbo. She is dedicated to volunteering on boards of several non-profit organizations, and can often be seen speaking or emceeing at various events.
A proud pastor's kid, Hannah remains committed to public service, lifetime learning, and fitness.