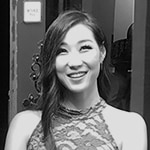 Hannah Y. Kim
Founder,
Remember727
Location: Washington, D.C.
Member Since: 2017
Former Chief of Staff / Communications Director to Rep. Charles B. Rangel (D-NY), Hannah Y. Kim has 13+ years of experience in strategic communications, advocacy, and operations in political, nonprofit and philanthropic spheres.
Most recently she organized a Worldwide Vigil to honor victims of the Atlanta Asian spas shooting, garnering support from more than 400 organizations, the White House, South Korean Embassy, four Korean American Members of Congress—in less than a week. She also co-produced the Multicultural Media Correspondents Association's inaugural 'Sheroes in Media" Awards Gala, honoring women at the helm of organizations championing media diversity.
As the AAPI Communications Director in the Biden campaign, Hannah worked cross-functionally with the communications, policy, coalitions, politics, fact-checking team to help craft and publish an oped that was widely circulated to more than 50 news outlets as well as quoted by the main stream media, including CNN, Reuters, Bloomberg, CBS News and US News & Report. It was complimented by Secretary-nominee Tony Blinken, as well as the South Korean president during his courtesy call with President-elect Biden.
She is known to be masterfully creative, creating and launching several wildly successful social media campaigns: #YesNeera, #AAPISheRose, #FlexYourVote, and the viral #MyNameIs hashtag (in rapid response to Senator Purdue's deliberate mispronunciation of "Kamala"—which garnered more than 100k organic tweets, 100k retweets, and182M organic reach.) Hannah also organized the first-ever virtual Presidential Debate Spin Room and amplified the campaign's message to ethnic/foreign media. The DNC's AAPI Caucus Chair said Hannah "changed the game" by initiating and implementing innovative and unprecedented outreach initiatives to engage with AAPI press and communities.
During her tenure on Capitol Hill, Hannah drafted and passed five bills (between 2010-2016), founded the Congressional Yogi Association and produced two annual Yoga on the Hill events, organized the first-ever TEDxUSCongress, and chaired the Democratic Communicators Network of more than 500 press aides (2013-15).
She is the official ambassadress of the Korean War Veterans Memorial Foundation and founder of Remember727 dedicated to honoring Korean War veterans. She spearheaded the historic passage of federal legislation that created a memorial day for Korean War veterans on July 27, 2009. She has organized an annual commemoration in Washington, DC for more than a decade. From 2017-19, she traveled across six continents to thank and interview more than 200 veterans in 30 countries that participated in the Korean War (1950-53), including North Korea. She completed another voluntary journey to all 50 states and 4 US territories to thank more than 1000 American veterans. For her advocacy, Hannah was the subject of two documentaries, and was honored as the CA29th Senate District's 2019 Woman of the Year by the California Legislature.
Hannah studied at various institutions including the Seoul National University, Graduate School of Political Management at George Washington University, UCLA Anderson School of Management and Johns Hopkins School of Advanced International Studies. She has contributed to the CNN, Huffington Post, ChosunIlbo, Korea Times, Korea Daily among many other newspapers/blogs, and has appeared on three documentaries, and numerous media outlets, such as C-SPAN, The Hill, Roll Call, AM The Answer (NY), tbs eFM ThisMorning, SBS, KBS, YTN, Yonhap, TV Chosun, Arirang TV, JoongAng Daily, and DongAIlbo. She is dedicated to volunteering on boards of several non-profit organizations, and can often be seen speaking or emceeing at various events.
She is a member of the National Press Club and the Council of Korean Americans (CKA), Advisory Board member of the Multicultural Media Correspondents Association (MMCA), VP of External Affairs for the Korean American Association of the Greater New York (KAAGNY), and Board chair of Bridging Education and Art Together (BEAT).
A proud pastor's kid, Hannah remains committed to public service, lifetime learning, and fitness