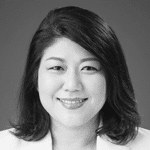 Grace Yoo
ATTORNEY,
LAW OFFICES OF GRACE E. YOO
Metro Region: Los Angeles
Member Since: 2022
Grace Yoo is a declared candidate for Los Angeles City Council District 10 (March 5, 2024) that includes the largest Koreatown in the United States. Grace is a public policy advocate and implementer. She has spent the past 30 years advocating on behalf of foster care youth, working-class families, seniors and neighbors in all walks and stages of life.
Grace served as Executive Director for the National Asian-Pacific American Bar Association and the Korean American Coalition in Los Angeles, and as Director at St. Barnabas Senior Services. These nonprofits all worked to protect fair representation and access to services, and being mindful to help underserved community members.
LA City Council District 10 residents and Grace helped to bring a lawsuit against the City in 2012, that went all the way to the US Supreme Court (2019). Although the case did not prevail, the next Redistricting in 2022 brought about a unified Koreatown in District 10.
Grace was a candidate for Los Angeles City Council District 10 in 2020. Her opponent was a 30-year politician who won in 2020, was ousted from his position in 2021, and on March 30, 2023, was found guilty on seven criminal counts, including federal bribery and conspiracy and honest mail services.