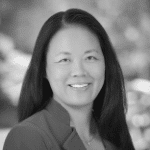 Grace Han McMahon
ASSOCIATE VICE PRESIDENT AND HEAD, PACIFIC BUSINESS DEVELOPMENT & LICENSING, MERCK & CO., INC.
Location: San Francisco Bay Area
Member Since: 2020
Grace serves as Associate Vice President and Head of Merck's BD&L Pacific Innovation Hub, encompassing the West Coast of North America and Asia Pacific. Her team is responsible for sourcing, evaluating and negotiating partnerships with companies that offer differentiated early-stage therapeutic opportunities prior to human proof of concept. Grace re-joined Merck in 2018 to lead the Pacific Hub Transactions group and assumed responsibility for the Search and Evaluation team in 2021. During her five years at Genentech, Grace led a team of transactional attorneys and negotiated collaboration, licensing, M&A, and manufacturing transactions. Grace started her industry career in 2003 at Merck headquarters in New Jersey where she was the lead attorney on numerous early-stage, clinical and commercial transactions with biotech and biopharma companies in the U.S., Europe and Asia. Grace holds an MBA from INSEAD, a JD from New York University School of Law and a BA from the University of Virginia.