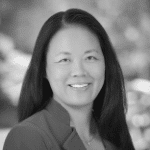 Grace Han McMahon
EXECUTIVE DIRECTOR, BUSINESS DEVELOPMENT & LICENSING, MERCK & CO., INC.
Location: San Francisco Bay Area
Member Since: 2020
Grace serves as Head of Transactions for Merck's BD&L Pacific Innovation Hub, encompassing the North American West Coast and Asia Pacific. Her team is responsible for structuring and negotiating partnerships with companies that offer differentiated early-stage therapeutic opportunities. Prior to re-joining Merck in 2018, Grace worked for five years at Genentech, where she led a team of transactional attorneys and negotiated collaboration, licensing, M&A, and manufacturing transactions.
Prior to Genentech, Grace was an in-house lawyer at Merck headquarters for ten years. She was the lead attorney on numerous early-stage, clinical and commercial transactions with biotech and biopharma companies in the U.S., Europe, Japan, China, India, and Southeast Asia. Also, Grace has experience working in Europe, where she worked for Softbank to launch U.S. internet companies. In New York City, she represented biotech and high technology companies as a law firm associate for Brobeck, Phleger & Harrison.
Grace holds an M.B.A. from INSEAD in France and Singapore, a J.D. from New York University School of Law, and a B.A. from the University of Virginia.