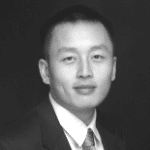 Eui-Jin Kim
Founder,
Kaleb Group

Location: Seattle, WA
Member Since: 2020
Eui-Jin (Eugene) Kim is the founder of Kaleb Group, a development, asset management, syndication, and brokerage firm based out of Bellevue, WA, and Irvine, CA. Kaleb Group currently manages over $300 million worth of assets and relationships from private individuals to high-level institutions on a local, regional, and international scale. Prior to founding Kaleb Group, Eugene held executive-level positions at Bank of America and Wells Fargo's real estate lending division for 9+ years. He also started the Kyohwa Foundation in his youth to support and empower young Korean Americans by creating a community for them to thrive in. 
Eui-Jin is also a board member of the Eastside Business Alliance, a group of influential leaders that represent firms and industries throughout the Greater Puget Sound. He is actively involved in his children's soccer activities and served on the club's board of directors.
Eui-Jin graduated from the University of Washington with a degree in Political Science.