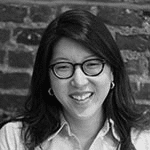 Ellen Kim
Chief Financial Officer,
Roti Modern Mediterranean
Location: Washington, DC
Member Since: 2011
Ellen is the Chief Financial Officer of Roti Modern Mediterranean, a 40-unit fast casual restaurant with locations in Chicago, Washington DC, Dallas, Minneapolis and New York City.
Ellen's previous professional experiences have spanned across both the public and private sectors. Most recently, she was a Director in AlixPartner's Restaurant and Foodservice practice working with private equity-backed and public restaurant groups on a range of operational initiatives. She has also worked at 'Wichcraft, Chef Tom Colicchio's quick service restaurant group, was a political appointee in the Obama Administration at the US Small Business Administration, and she started her career in the Municipal Securities Division at Citigroup.
Ellen was a 2012 Marshall Memorial Fellow, as well as a 2014 American Council on Germany Fellow. She is active with several Korean-American organizations. Ellen holds a Bachelor of Science in Economics from MIT and an MBA from the Stanford University Graduate School of Business.