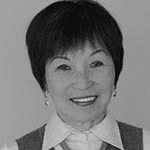 Elaine Kim
Professor, Ethnic Studies Department, Asian American Studies,
University of California, Berkeley
Location: San Francisco Bay Area
Member Since: 2015
Elaine H. Kim is an award-winning writer, editor and professor in Asian American Studies at the University of California, Berkeley. Kim is widely published in her field. Her publications include Asian American Literature: An Introduction to the Writings and Their Social Context; With Silk Wings: Asian American Women At Work; Dangerous Women: Gender and Korean Nationalism (co-edited with Chungmoo Choi), East to America: Korean American Life stories; and Fresh Talk/Daring Gazes: Conversations on Asian American Art. Kim has also produced several documentary videos about Asian American Women, including Slaying the Dragon: Asian Women in U.S. Television and Film (1988), Labor Women (2002), and Reloaded: Representing Asian Women Beyond Hollywood (2010).
Kim is the co-founder of the non-profit organization Asian Women United (AWU) of California, which produced the anthologies Making Waves: Writings By and About Asian American Women and Making More Waves: More Asian American Women's Writing. She also co-founded the Oakland Korean Community Center (now the Korean Community Center of the East Bay) and the Asian Immigrant Women Advocates.
Kim received her B.A. in English and American Literature from the University of Pennsylvania, her M.A. in English and Comparative Studies from Columbia University, and her Ph.D. in Social Foundations of Education from the University of California, Berkeley. She received an Honorary Doctorate of Humane Letters from the University of Massachusetts and an honorary Doctor of Laws degree from the University of Notre Dame.
Some of her awards include the Lifetime Achievement Award from the Association for Asian American Studies (2011), the Association of Asian American Studies Book Award in Cultural Studies (2004), and the Hall of Outstanding Women at California (1995).