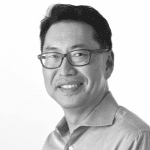 David J. Kim
Managing Director,
DigiTx Partners

Location: San Francisco, CA
Member Since: 2020
As the Managing Director of DigiTx Partners, David has a unique set of professional experiences and educational background to support entrepreneurs in the digital health space.  David brings both business and clinical expertise to venture capital with an extensive background practicing medicine and building healthcare software companies.
Two decades ago, David was called "Dr. Kim" by nurses when he worked as a hospitalist and primary care internal medicine physician.  At Kaiser South San Francisco he also served as the Director of Urgent Care and Assistant Chief of Internal Medicine.  This provided him not only the clinical insights of what patients experienced but also the business of how care is delivered to members of a large provider group. 
Understanding medicine is not enough to assist entrepreneurs with the company's growing pains.  David has worked with a team before it received institutional funding.  He served as the COO of Lumiata and helped to grow the Company through multiple fundraises to build and commercialize predictive analytics solutions.
Most importantly, he has spent almost two decades in the investment world including working with two venture firms – MPM Capital and Pinnacle Ventures.  David has been a director or a board observer of multiple medical devices and biotech companies.  Currently, David serves as a board member of Embr Labs, NeoSensory, Siris Medical, G-Tech Medical, Savonix, and WellDoc.  Moreover, David is working with multiple academic accelerators and translational medicine programs including the Catalyst Program within the UCSF Clinical & Translational Science Institute and U. of Michigan MTRAC program.
David completed his internal medicine residency at Harbor-UCLA Medical Center and is a graduate from the Johns Hopkins University School of Medicine (M.D), Stanford Graduate School of Business (M.B.A.), and Pomona College (B.A., Biology).