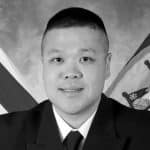 Dong Joo Lee
Judicial Law Clerk
United States Court of Appeals for the Third Circuit
Location: Washington, DC
Member Since: 2019
Dong Joo Lee is currently a Judicial Law Clerk at the United States Court of Appeals for the Third Circuit. Previously, he was a Special Assistant United States Attorney in the United States Attorney's Office for the District of Columbia. He also clerked in the United States District Court for the Eastern District of New York. Dong also served on active duty in the United States Navy for six years.
In 2017, Dong was selected by the National Asian Pacific American Bar Association (NAPABA) as a "Best Under 40 Attorney." He was awarded the "Hometown Heroes" Congressional Award by U.S. Representative Josh Gottheimer of New Jersey's 5th District. In 2019, he was chosen as a "Distinguished Alumnus" by Brooklyn Law School's Asian Pacific American Law Students Association (APALSA).
Dong received his B.A. from Boston College, his M.P.A. from Brooklyn College, and his J.D. from Brooklyn Law School. Currently, he is a student at the U.S. Naval War College.
Dong is a co-chair of NAPABA's Military & Veterans Network and of the Asian Pacific American Bar Association of New York (AABANY)'s Military and Veterans Affairs Committee. He is also on the Associate Board of the Korean American Community Foundation (KACF).