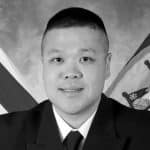 Dong Joo Lee
Judicial Law Clerk,
United States Court for the Eastern District of New York
Location: New York
Member Since: 2019
Dong Joo Lee currently serves as a Judicial Law Clerk in the United States District Court for the Eastern District of New York. Prior to his clerkship, Dong served in the Navy JAG Corps, with stints in various locations such as Corpus Christi, TX; Newport, RI; Norfolk, VA; Washington, DC; Guantanamo Bay, Cuba; and Seoul, Korea. As a Navy JAG, Dong held various positions, including as a prosecutor, attorney-advisor, and defense attorney. He was also a member of the Navy's Diversity Liaison team where he focused on diversity outreach and recruitment at the national level.
In 2017, Dong was selected by the National Asian Pacific American Bar Association (NAPABA) as a "Best Under 40 Attorney." He is also the recipient of the "Hometown Heroes" Congressional Award given by U.S. Representative Josh Gottheimer of New Jersey's 5th District, and Brooklyn Law School Asian Pacific American Law Students Association (APALSA)'s 2019 "Distinguished Alumnus Award."
Dong received his B.A. from Boston College, his M.A. from Brooklyn College, and his J.D. from Brooklyn Law School. While attending law school, Dong was the Vice President of the Student Bar Association, President of the APALSA, and Treasurer of the Christian Legal Society. He was also a member of the Moot Court Honor Society.
Dong currently serves as a co-chair of the Military & Veterans Network for NAPABA and a co-chair for the Military and Veterans Affairs Committee for the Asian Pacific American Bar Association of New York. He continues to serve in the U.S. Navy as a reservist and drills out of Washington Navy Yard.