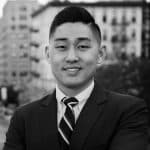 David Y. Kim
Research Analyst,
Stimson Center
Location: Washington, DC
Member Since: 2019
David Y. Kim is an analyst with the Stimson Center's WMD, Nonproliferation, and Security program. He formerly worked as a political appointee at the U.S. Department of State where he helped to advance priorities around international security and nonproliferation, U.S. – Japan relations, human rights and public diplomacy. Prior to the State Department, David served in the White House Office of Presidential Personnel and Correspondence where he assisted with vetting national security appointments and responded to letters on behalf of the president. His research interests include nuclear nonproliferation, security, and arms control; U.S. relations with North Korea, Japan, and South Korea; inter-Korean relations; and Asian multilateralism. David's writings have been published in
The Bulletin of the Atomic Scientists
,
NK News, The Diplomat
, and
East Asian Forum
and he has provided commentary for outlets such as
CNN, Sky News, TIME, Bloomberg, Fortune, Reuters, AFP, Financial Times, France 24, China Global Television Network, , Korea Times, Japan Times, Vox News, Voice of America, Telegraph, Radio Free Asia, Kyodo News, The Strait Times, and South China Morning Post
. He is a member of The Council for Security Cooperation in the Asia-Pacific and a CTBTO Youth Group member. He received his MPA and MPP from the University of Tokyo and Columbia University's School of International and Public Affairs and his BA from the University of Washington. He is a native of Seattle, Washington and is fluent in Korean. David is a recipient of the State Department's Benjamin Franklin Award.