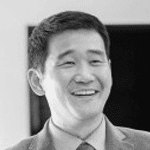 Dave K. Min
Assistant Professor,
UC Irvine School of Law
Location: Los Angeles Area
Member Since: 2019
Dave Min is a law professor at UC Irvine and a former candidate for Congress in Orange County, California. He is a nationally recognized expert on financial markets regulation, and his research interests focus on the law and policy of banking, real estate finance, and capital markets.
Before joining the faculty of UCI Law, Professor Min spent over a decade working in financial regulatory law and policy, including as a staff attorney at the Securities and Exchange Commission, as an associate in the Securities Litigation practice group of the Washington, DC, law firm WilmerHale, as Banking Committee counsel for Sen. Charles E. Schumer (D-NY), and as the senior policy advisor and counsel for the Joint Economic Committee of Congress. Professor Min was most recently the Associate Director for Financial Markets Policy at the Center for American Progress, a policy think tank, where he oversaw the efforts of the Mortgage Finance Working Group, a collection of leading mortgage market experts responsible for, among other things, one of the leading proposals on housing finance reform that was described by the Wall Street Journal as "influential" and "one of the most detailed road maps yet for the creation of a housing-finance structure to succeed mortgage giants Fannie Mae and Freddie Mac."
Professor Min is regularly quoted on financial markets and housing finance issues, including in The New York Times, The Washington Post, The Boston Globe, Reuters, Associated Press and Bloomberg, and is a frequent contributor to radio and television programs, including NPR's Marketplace, the Diane Rehm Show, CNBC and Fox News. Professor Min is often asked to speak at local and national events.
Professor Min holds a J.D. from Harvard Law School, and received his undergraduate degrees from the University of Pennsylvania's Wharton School of Business and School of Arts and Sciences, where he graduated magna cum laude and Phi Beta Kappa.