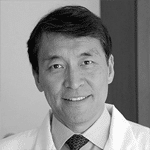 Daniel Riew
Professor of Orthopedic Surgery,
Columbia University Medical Center
Location: New York
Member Since: 2014
Dr. Dan Riew is a world-renowned cervical spine surgeon, and is recognized as one of the leading clinical and academic figures in the global spine community. His practice is exclusively limited to the operative treatment of the cervical spine, the only such practice in the US and one of only a handful in the world. Few surgeons perform more cervical spine operations than Dr. Riew, whose procedures range from minimally invasive microsurgical outpatient procedures, to the most complex "chin-on-chest" or "ear-on-shoulder" deformity corrections. He has a particular interest in cervical artificial disc replacements and other motion-sparing procedures such as laminoplasties.
A doctor's doctor, over 150 physicians – and hundreds of their family members – have been operated on by Dr. Riew. Of particular note are the numerous neurosurgical and orthopedic spine surgeons who have chosen Dr. Riew for their surgical care. Countless other surgeons of all specialties have chosen Dr. Riew to care for them or their families. His patients also include numerous professional athletes, prominent business leaders, foreign royalty, and TV personalities. Patients from all over the US and the world come to The Spine Hospital in New York every month to have their cervical spine operated on by Dr. Riew. He has been recognized on the lists of America's Top Doctors, and Best Doctors in America continuously since 2001. Upon his move to NYC, he was immediately recognized as one of NYC's Super Doctors, and has been consistently named as one of the top 25 Spine surgeons in North America by Orthopedics This Week, ever since such lists have been made.
Dr. Riew operates in the state-of-the-art Spine Hospital at NewYork-Presbyterian/Allen, which features treatment facilities, operating rooms, and advanced diagnostic equipment built exclusively for the treatment of spine patients. This new facility consistently earns rave reviews from patients, and the specially trained clinical staff are dedicated to providing the best spine care in the world.
As a global leader in the academic community, Dr. Riew has served as the President of the Cervical Spine Research Society (CSRS), which is the most well-respected society for the treatment of the cervical spine. In addition, he currently serves as Chairman of the International Board of AO Spine, the largest organization of spine surgeons, with over 6,000 members. He has lectured extensively nationally and internationally, improving the treatment of these disorders in other portions of the globe. Dr. Riew has been a Visiting Professor, Key or Named Lecturer over 120 times in 22 countries. Over 75 experienced spine surgeons from all other the world have come to learn from him. He has published over 250 peer-reviewed papers, over 75 chapters and other manuscripts and edited several textbooks.