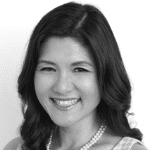 Connie Chung Joe
CEO,
ASIAN AMERICANS ADVANCING JUSTICE
– LA
Location: Los Angeles, CA
Member Since: 2020
Connie Chung Joe, JD, is the Chief Executive Officer of Asian Americans Advancing Justice – Los Angeles (Advancing Justice-LA), the nation's largest legal and civil rights organization for Asian Americans, Native Hawaiians, and Pacific Islanders. Before joining Advancing Justice-LA in August 2020, Connie served as the Executive Director of the Korean American Family Services (KFAM) for eleven years. Under Connie's leadership, KFAM nearly quadrupled its budget and staff. As a result, KFAM was able to provide culturally and linguistically responsive services to immigrant families, particularly those struggling with mental health, domestic/family violence, and acculturation stresses.
Prior to joining KFAM, Connie was a public interest lawyer for seven years. She worked at the Housing Rights Center in LA, representing clients in fair housing cases and the American Civil Liberties Union in Chicago, working on immigrants' rights, reproductive rights, post-9/11 racial profiling, police accountability, and First Amendment cases. Connie received her BA in Spanish and International Relations from USC and her JD from Georgetown University Law Center.
Connie is active in advocating for and addressing the needs of API communities. She served for three years as the Vice-Chair of Planning of the Asian Pacific Policy and Planning Council (A3PCON), a consortium of 40+ API-serving organizations throughout LA County. Connie was also the co-chair of A3PCON's Mental Health Subcommittee. She served as the co-chair for two years of the API Domestic Violence Task Force of LA County and co-founded the API Human Trafficking Task Force of LA County. She has served as co-chair and steering committee member of the CA Culturally Responsive Domestic Violence Network, which consists of culturally-specific DV organizations across the state working to improve DV services for the most vulnerable communities in CA. Connie has been honored for her work by the Asian Pacific Women's Center and the Asian American Drug Abuse Program. CA has testified on several occasions before the CA State Assembly on Domestic Violence to advocate for the needs of immigrants, APIs, and other vulnerable populations in the State.
In 2016, she was appointed by CA Senate President Pro Tempore Kevin de Leon to the Domestic Violence Advisory Council. In 2017, Connie was named by CA Assemblymember Sebastian Ridley-Thomas and LA County Board of Supervisor Mark Ridley-Thomas, a 40 Under 40 Emerging Civic Leader.