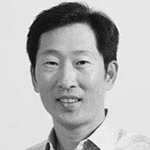 Christopher Ko
CEO,
Samsung Bioepis
Location: South Korea
Member Since: 2014
Christopher Hansung Ko, Ph.D., is CEO of Samsung Bioepis, a biopharmaceutical company established in February 2012.
Before becoming the CEO, Dr. Ko held several leadership positions within Samsung. From 2007 to 2012, he served as Senior Vice President of the New Business Development Team at the Samsung Group and was responsible for pushing forward the future business initiatives such as medical equipment, biopharmaceuticals and healthcare services. From 2000 to 2007, Dr. Ko served as Vice President of Bio & Health Lab at Samsung Advanced Institute of Technology (SAIT), the group's central research organization.
Prior to joining Samsung, Dr. Ko was Vice President of Corporate Development at Dyax Corp (DYAX; NASDAQ), a company that makes peptide and antibody therapeutics via phage display. Previously, Dr. Ko served as CEO of Target Quest, a start up human antibody therapeutics company that subsequently merged with the then privately held Dyax Corp.
Dr. Ko holds a bachelor's degree in Biochemistry from University of California, Berkeley, a Ph.D. in Molecular Genetics from Northwestern University, and completed his post-doctoral training at Stanford University.