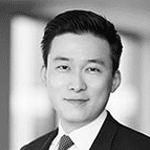 Chang Lim
PARTNER,
Knobbe Martens LLP
Location: Los Angeles
Member Since: 2017
Chang Lim is a partner at Knobbe Martens, a leading intellectual property law firm with 275+ lawyers and scientists nationwide, dedicated to all aspects of intellectual property and technology law, including litigation. Chang's practice primarily focuses on patent and trademark counseling, and he represents a diverse group of clients from multinational corporations to emerging businesses of all stages in a wide range of industries and technologies, including automotive, blockchain, business methods, cloud computing, consumer electronic devices, data protection systems, display devices, fashion, healthcare, image and video compression, IoT, medical devices, semiconductor, software, and many others.
Chang received his B.S. in Electrical Engineering and Computer Science from the University of California, Berkeley, and he received his J.D. from Cornell Law School. He is a past President of the Orange County Korean American Bar Association (OCKABA) and is currently serving as Regional Governor of Orange County in the International Association of Korean Lawyers (IAKL).
In his spare time, Chang enjoys spending time with his family, running, and playing golf.