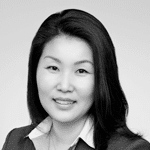 Cathy Choi
SENIOR DIRECTOR OF PROGRAMS, THE EISNER FOUNDATION
Metro Region: Los Angeles
Member Since: 2022
Cathy Choi is Senior Director of Programs at The Eisner Foundation, overseeing the planning, strategic development and distribution of grants in Los Angeles and New York City. She develops grantee relationships during and after the grant-making process and works to build organizational sustainability among the foundation's partners, promoting innovative practices and creative solutions to social justice challenges.
Cathy has more than 20 years of diverse professional experience in philanthropy and the nonprofit and public sectors. Before joining The Eisner Foundation, she was a Program Officer at the California Community Foundation (CCF), managing a number of special grant programs covering issues such as access to health care, arts education, youth programs and historic preservation. Prior to CCF, she was External Affairs Director at the Korean American Coalition national headquarters where she led advocacy activities on legislative issues affecting the Asian Pacific American communities, such as census outreach and the redistricting process and also served as a deputy to several local and federal elected officials, including former U.S. Representative Xavier Becerra and Los Angeles Unified School District Board Member George Kiriyama.
In addition to her professional experience, Cathy's volunteer service includes board leadership roles with Asian Americans/Pacific Islanders in Philanthropy (AAPIP), UCLA Alumni Association, Korean American Coalition, and Korean American Democratic Committee. Cathy also served in advisory roles with Southern California Public Radio, Southern California Grantmakers and The Advisory Council on Democratic and Peaceful Unification, Republic of Korea. Cathy received her Bachelor of Arts in Economics from UCLA and Master's in Public Administration from the Maxwell School of Citizenship & Public Affairs at Syracuse University.