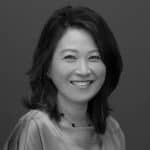 Carol Choi
Founder,
United Exchange Corp.
Metro Region: Orange County
Member Since: 2019
Carol Choi is a businesswoman, a philanthropist and an entrepreneur. Carol graduated from UC Irvine with a Bachelor of Arts in Biology and Psychology from Francisco J. Ayala School of Biological Sciences. Carol went onto graduate from USC with a Masters in Business Administration and Public Health (MBA/MPH). In 1993, Carol established United Exchange Corp. (UEC) specializing in the sales, marketing and distribution of Consumer Package Goods (CPG) throughout the U.S., Pacific Asia and Latin American regions. Through her work, UEC has been recognized as a good corporate citizen and valued community service provider in the diverse cultural neighborhoods of Los Angeles and Orange County.
Carol was actively involved with the Irvine Public School Foundation (IPSF) as a board member, she served from 2006–2012. Carol currently serves as an Advisory Council member, helping to raise funds to support the Irvine School District. During Carol's tenure as a board member with IPSF she started Irvine Korean Parent's Association (IKPA). Carol served as President where she instituted the Program to Advance Cultural Education (PACE). The PACE program provides opportunities for educators in the Irvine School District to deepen their understanding of the city's many different cultures.
Carol supported the formation of the ANTrepreneurship Center at UC Irvine, which is designed to help students turn their dreams of starting a business into reality. The ANTrepreneurship Center is also focused on stimulating the economy and promoting education. She feels that "entrepreneurship is a great thing. It creates jobs and gives people a chance to think outside of the box about what they can do."