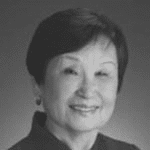 Bonnie Oh
Distinguished Professor of Korean Studies (Retired),
Georgetown University
Location: Chicago
Member Since: 2014
Membership Type: Full
Born and raised in South Korea, Professor Oh came to the United States to pursue higher education. She earned her B.A. in American colonial history from Barnard College, Columbia University, her M.A. in Russian and European intellectual history from Georgetown University, and her Ph.D. in East Asian history from the University of Chicago.
She is retired as Distinguished Professor of Korean Studies at Georgetown University, where she also served as Director of Women's Studies and as University Ombudsperson. Professor Oh taught for 38 years at the university level in the United States.
Professor Oh has authored/co-authored/edited numerous volumes including Jesuit Entry to China; Comfort Women of WWII; American Military Government in Korea; Korean Embassy in America. She has contributed articles on Korea to encyclopedias including Encyclopedia Britannica, Oxford Encyclopedia of the Modern World, World Book Encyclopedia, and Compton's Encyclopedia. She has also published articles in scholarly journals including the Journal of Asian Studies, American Historical Review, International History Review.
She is a frequently sought-after speaker on the Comfort Women and other subjects on Korean history, including the American Military Government, nationalism and feminism in Korea, and Korea during the Japanese colonial period.
In 2013, she published a childhood memoir, Phoenix in a Jade Bowl: Growing up in Korea.
In September 2016, she published, Murder in the Palace, a historical novel on the death of Queen Min (aka Empress Myongsong) of late 19th c. Korea. It's available on Amazon as paperback, on Kindle, and eBook.
In May 2017, she received the Palbong (pen-name of Kim Ki-jin) Literature Award for her latest publication, Murder in the Palace. It is the first time that a non-Korean book was awarded by the DC-based literature society, named after Kim Ki-jin, a well-known writer and literary critic in South Korea.
She has served as a CKA board member since 2015.