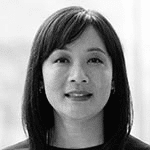 Annette Sohn
Vice President for Global Initiatives Director,
TREAT Asia amfAR – The Foundation for AIDS Research
Location: Thailand
Member Since: 2014
Dr. Annette Sohn joined amfAR's staff as Vice President and Director of the TREAT Asia program in September 2008, and has since led amfAR's office in Bangkok, Thailand.
Dr. Sohn is a highly regarded pediatrician and researcher with extensive experience in pediatric and adolescent HIV/AIDS in Asia. She received her degrees from Wellesley College and the School of Medicine at the University of California, Los Angeles, and completed her residency and infectious disease fellowship training at the University of California, San Francisco (UCSF). She was also an officer in the Epidemic Intelligence Service of the US Centers for Disease Control and Prevention. Prior to joining amfAR, Dr. Sohn was on faculty in the UCSF Division of Pediatric Infectious Diseases and is currently an assistant clinical professor in the Department of Pediatrics.
She now directs a program integrating HIV-related research, education and training, and community and policy activities through TREAT Asia's network of over 60 clinical centers in 14 countries in the Asia-Pacific.