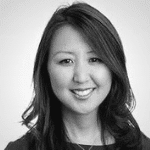 Angie You
Former CEO, AMUNIX PHARMACEUTICALS, INC.
Location: San Francisco Bay Area
Member Since: 2020
Angie You most recently served as Chief Executive Officer of Amunix Pharmaceuticals Inc. until its acquisition by Sanofi for up to $1.225 billion.
Prior to joining Amunix, Dr. You served as Chief Business & Strategy Officer and Head of Commercial at Sierra Oncology (NASDAQ: SRRA), a publicly listed hematology and oncology drug development company. She helped the company through a successful initial public offering. She also led the company's strategic and transactional business and commercial efforts, including building its robust pipeline through acquiring and licensing several product assets.
Prior to Sierra, Dr. You served as Chief Business Officer of Aragon Pharmaceuticals, a private oncology drug discovery and development company, where she was responsible for finance, operations, human resources, and business development. At Aragon, she helped secure several rounds of financing and led the business development process that resulted in the company's acquisition by Johnson & Johnson.
Dr. You served as Chief Business Officer at Synosia Therapeutics and Ren Pharmaceuticals in previous roles. Before joining Ren Pharmaceuticals, she focused on new company formation at Venrock Ventures.
Dr. You earned a Ph.D. in Biochemistry from Harvard University and a B.A. in Chemistry from Harvard College.