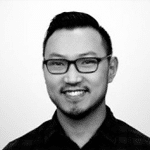 Andrew Myung Stroup
CEO, LVRG
Location: New York
Member Since: 2018
Andrew is a serial technology entrepreneur with domain expertise in software, cybersecurity, robotics, and government. He currently is the Founder of LVRG, an enterprise data analytics platform delivering vendor relationship management.
Andrew was previously an Entrepreneur in Residence at Bank of America Merrill Lynch, the Director of Product and Technology for the White House Presidential Innovation Fellows, has co-founded a security software startup within the identity and access management sector, built giant fighting robots designed for glorious arena combat, and started a non-profit makerspace focused on access to industrial grade tools and education. Andrew was also a contestant on the Discovery Channel's The Big Brain Theory, a team-based reality TV competition where contestants go head-to-head against some of the brightest minds in the country.
Additionally, Andrew has served as a DoD civilian focused on the Biosurveillance White House Initiative. His support to the Armed Forces also included oversight of medical countermeasures and Chemical, Biological, Radiological and Nuclear materiel development as well as Joint Strike Fighter integration efforts. Andrew earned dual degrees in Aerospace Engineering and Mechanical Engineering with a focus on Mathematics and Business Management from Oklahoma State University.