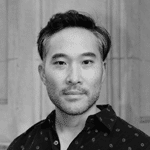 Andrew Kim
Effects Artist, Valve Software
Metro Region: Seattle
Member Since: 2022
Andrew Kim is an effects artist with a background in the live action, computer animation, commercial and video game industries.
He currently works as an Effects Artist at Valve Software where he is responsible for creating high-quality visual effects for various video games. Prior to joining Valve, Andrew worked as a Lead Effects Artist at Dreamworks Animation, where he contributed to several popular animated films. He also has experience working at Tippett Studio and CORE Digital Pictures.
Andrew holds post-grad degrees in Digital Visual Effects, Computer Animation and Fine Arts from Sheridan College, and an Hon. B.Sc. in Applied Mathematics and Art and Art History from the University of Toronto.