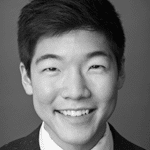 Andrew Kim
Hospital Physician, Optum-UHG
Metro Region: Denver, Colorado
Member Since: 2022
Andrew Ikhyun Kim (he/they) is a hospitalist physician at Optum-UHG passionate about health diplomacy and peacebuilding. He is a senior fellow and Director of Policy in the UCSF Center for Global Health Delivery, Diplomacy, and Economics, where he coordinates global health policy engagements for the UN High Level Meetings on TB, and served as the secretariat for the Lancet Commission Report on TB.
He recently served as a White House Fellow at the Office of Management and Budget and the White House COVID-19 Response Team where he has worked on executing the President's Executive Orders on vaccine requirements, coordinated Federal workforce re-entry and future of work, contributed to trade analysis for the Made in America Office, served as a health consultant for OIRA's Menthol and Flavored Tobacco bans, and created an interagency COVID-19 Health Equity Roadmap.
His prior research explored vaccine diplomacy and humanitarian aid to North Korea. During his residency at UCSF, he worked with the Institute for Global Health Sciences on a report for the WHO on the US COVID response, and on reports informing the Biden-Harris COVID Transition Taskforce. As a Rappaport Fellow at the Harvard Kennedy School, Andrew led a national landscape assessment of advanced directive digitalization efforts. His work on the nexus between peace and health spans projects in Liberia during the 2014 Ebola outbreak, eastern Uganda, and South Sudan. Andrew has studied social justice at the Center for Action and Contemplation, co-founded an interfaith youth service program, and devoted time to clinical care in Guatemala, Brazil, Tanzania, Uganda, and Taiwan.
He earned his MD from Harvard Medical School through the Presidential Public Service Scholarship, his MPhil in International Development at the University of Cambridge as a Baker Fellow, and BA from Brown University as a Joslin awardee.
As an integral balance to his professional work, Andrew enjoys backpacking in solitude, skiing, learning languages, nerding out on sci-fi and graphic novels, and exploring contemplative traditions across world religions.