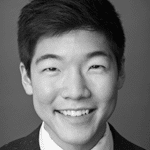 Andrew Kim
White House Fellow, Office of Management and Budget & White House COVID-19 Response Team
Metro Region: DC Metro
Member Since: 2022
Andrew Ikhyun Kim is a White House Fellow placed at the Office of Management and Budget where he worked on executing the President's Executive Orders on vaccine requirements, works on Federal workforce re-entry and future of work, serves as a health consultant for OIRA, and supports the White House COVID-19 Response Team on cross-agency implementation of Health Equity Task Force recommendations.
Prior to the fellowship, Andrew was a physician at the University of California, San Francisco where his research focused on COVID vaccine diplomacy in North Korea and was featured in International Affairs. He also co-wrote a report on the US COVID response for the WHO Pandemic Preparedness Panel and worked with the UCSF Center for Health Diplomacy to compile reports for the Biden-Harris COVID Transition Taskforce. He also helped organize a COVID Science Diplomacy conference with South Korean officials.
His prior work explored the nexus between peace and health. As a Rappaport Fellow at the Harvard Kennedy School, Andrew led a national landscape assessment study of advanced care directive digitization efforts with the Massachusetts Office of Elder Affairs. He also helped organize the first international neurosurgical symposium in Pyongyang, DPRK, and conducted the first systematic review of literature on North Korean public health. Before that, Andrew served as a consultant to the Liberian Ministry of Health and Social Welfare with support from the Clinton Health Access Initiative during the 2014 Ebola Outbreak and co-founded a social enterprise supporting medical education in South Sudan.
Spirituality and service remain two core pillars of Andrew's life. Currently, he is a student at the Center for Action and Contemplation. Clinically, Andrew has devoted his time to Guatemala, Brazil, Tanzania, Uganda, Taiwan, and Cambodia. He has also volunteered with philanthropic groups, women's shelters, and soup kitchens, and co-founded an interfaith youth service program.
Andrew earned his MD from Harvard Medical School with support from the Presidential Public Service Scholarship. He pursued his MPhil in International Development at the University of Cambridge as a Baker Fellow and undergraduate from Brown University as a Joslin Award recipient.