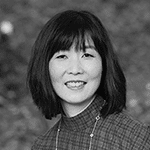 Alice Cho
SENIOR ADVISOR, BOSTON CONSULTING GROUP
Metro Region: San Francisco Bay Area
Member Since: 2021
Alice Cho has over 25 years of experience in financial services, public policy, and corporate boards. Currently, she is Senior Advisor at the Boston Consulting Group and serves on the board of directors at First Interstate BancSystem (Nasdaq: FIBK), where she is a member of its Audit, Risk, and Technology Committees. Previously, Alice served as Company Advisor to Varo, the nation's first digital fintech bank with over 3 million accounts and a mission to improve the financial health of consumers. At Varo, Alice was instrumental in designing risk management programs suitable for the digital banking model and in helping the company become the first fintech to obtain a federal banking license, which was key to raising $240 million in Series D funding.
Prior, Alice served as Managing Director at Promontory Financial Group and the head of its West  Coast Practice. In that capacity, she was responsible for leading engagements and for advising boards and top executives of global financial institutions on issues relating to risk management,  compliance, corporate governance, and regulatory strategy. Previously, Alice was a director at BITS,  the technology arm of the Bank Policy Institute where she worked with the CIOs and CTOs of financial services companies on early industry initiatives to facilitate internet banking and e payments.
Alice also served as Special Assistant to Vice Chair Alice M. Rivlin at the Federal Reserve Board in  Washington, D.C. In that role, Alice provided analysis and recommendations on issues relating to banking, payment innovations, and regulations; in particular, she played a key role in a Federal  Reserve-wide effort to introduce more efficient and safe ways to process and settle retail payments.
Alice earned a B.A. in Economics from Whitman College and an A.M in Public Policy from the  University of Chicago where she was a Sloan fellow. She has published articles at the Brookings  Institution and in American Banker and Western Independent Bankers. Reflecting her longtime interest in mentoring students and young professionals, she currently serves on the Advisory Council at the Harris School of Public Policy at the University of Chicago and is a co-founder of ALLRISE SF, a  Bay Area organization dedicated to women's leadership in financial services and technology.